11/16 – 12/31 Cindy Taplin Exhibit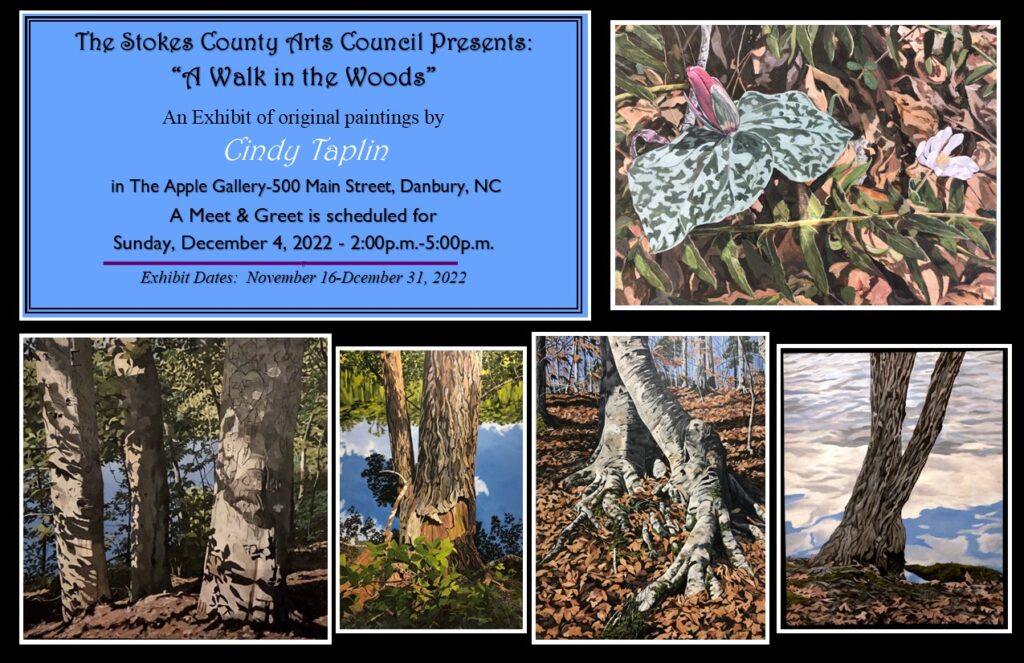 The Stokes County Arts Council is pleased to announce the opening of an exhibit of original art, "A Walk in the Woods," by Cindy Taplin in the Apple Gallery. A meet and greet is scheduled for Sunday, December 4, 2022 from 2:00pm-5:00pm in the Apple Gallery of the Stokes County Arts Council 500 Main Street Danbury, NC.

Taplin was born in High Point, NC and has spent most of her life in Forsyth County. She earned a B.A. in Mathematics at Salem College, where she also studied studio art. Her paintings were exhibited annually at Artworks Gallery in Winston-Salem from 2009 – 2017, and she is a founding member of Delurk Gallery in Winston-Salem. Her paintings have been featured in the Southern Idiom series at SECCA. She was invited to participate in Green Hill Gallery's Winter Show in 2013 and 2017. Most recently, she had a piece in Cameron Art Museum's State of the Art/Art of the State exhibition in Wilmington, NC. Taplin mostly makes large acrylic paintings, but she said she also loves to make tiny landscape paintings for Artists in Cellophane to send all to Art-o-Mat hosts all over the United States. Most of her painting ideas come from long walks in beautiful settings. In addition to painting, Taplin enjoys gardening, and writing and playing songs.

This exhibit will be on display November 16-December 31, 2022 in the Apple Gallery. The Stokes County Arts Council is open to the public Monday through Friday, 9:00am-6:00pm, Saturday, 10:00a.m.-6:00p.m. and Sunday 12:00pm-6:00pm. For additional information about the exhibit, please contact the Stokes County Arts Council at (336) 593-8159.