8/16 – 9/30 Eileen Wilhelm Exhibit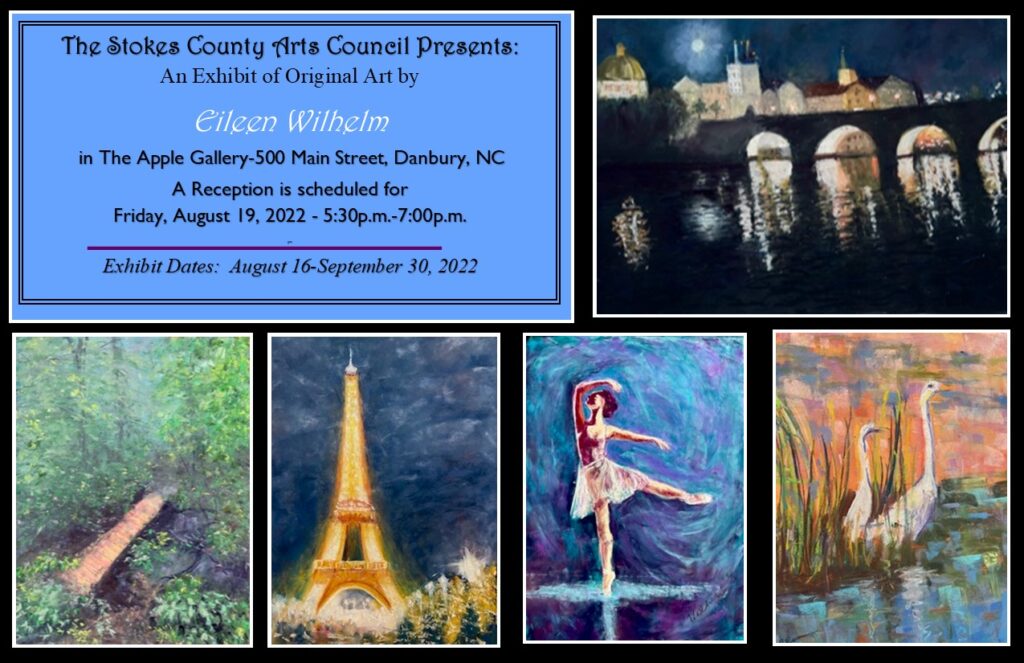 The Stokes County Arts Council is pleased to announce the opening of an exhibit of original art
by Eileen Wilhelm in the Apple Gallery. A reception is scheduled for Friday, August 19 from
5:30pm-7:00pm in the Apple Gallery of the Stokes County Arts Council 500 Main Street
Danbury, NC.
Wilhelm shared: "Living on a horse farm in the foothills of the Blue Ridge Mountains, I am
never at a loss for images and inspiration, watching how the light changes with the seasons and
trying to capture its beauty. My paintings attempt to recreate the mood, whether a drizzly day in
France, foggy sunrise on the mountain, the cocky strutting of a rooster or the curiosity of a pig.
The grace of people and animals enchants me so that I must pick up my pastels and paint. I
mostly paint everyday scenes, which keep me grounded."
Wilhelm has been juried into numerous exhibits, including:
• The Milton Rhodes Center for the Arts, Winston-Salem
• 311 Gallery, Raleigh
• Red Dog Gallery, Winston-Salem
• Hanging Rock Gallery (Solo exhibit)
• Apple Gallery (Solo exhibit)
• Red Dog Gallery Featured Artist exhibit
• The Art Gallery, Greensboro
• Ambleside Gallery
• Welborn Gallery (Yadkinville Cultural Arts Center)
• Captain White's Gallery (Alamance Arts)
• Left Coast Pastel Society 2022 International Show
• North Carolina Statewide Exhibition
Wilhelm is a featured local artist at Tim Bruce Galleries, The Arts Place of Stokes, and the Red
Dog Gallery. She is a member of Art for Arts Sake, Piedmont Pastel Society (Past President ,
Member Chair and Treasurer), Pastel Society of NC , Pastel Guild of Europe, Yadkinville,
Stokes County , and Surry Arts Councils. She previously served on the boards of Associated
Artists and Southeastern Center for Contemporary Art (SECCA).
This exhibit will be on display August 16-September 30, 2022 in the Apple Gallery. The Stokes
County Arts Council is open to the public Monday through Friday, 9:00am-6:00pm, Saturday,
10:00a.m.-6:00p.m. and Sunday 12:00pm-6:00pm. For additional information about the exhibit,
please contact the Stokes County Arts Council at (336) 593-8159.