11/16 – 12/31 Hal Yeah Pottery & Hal Tenny Concepts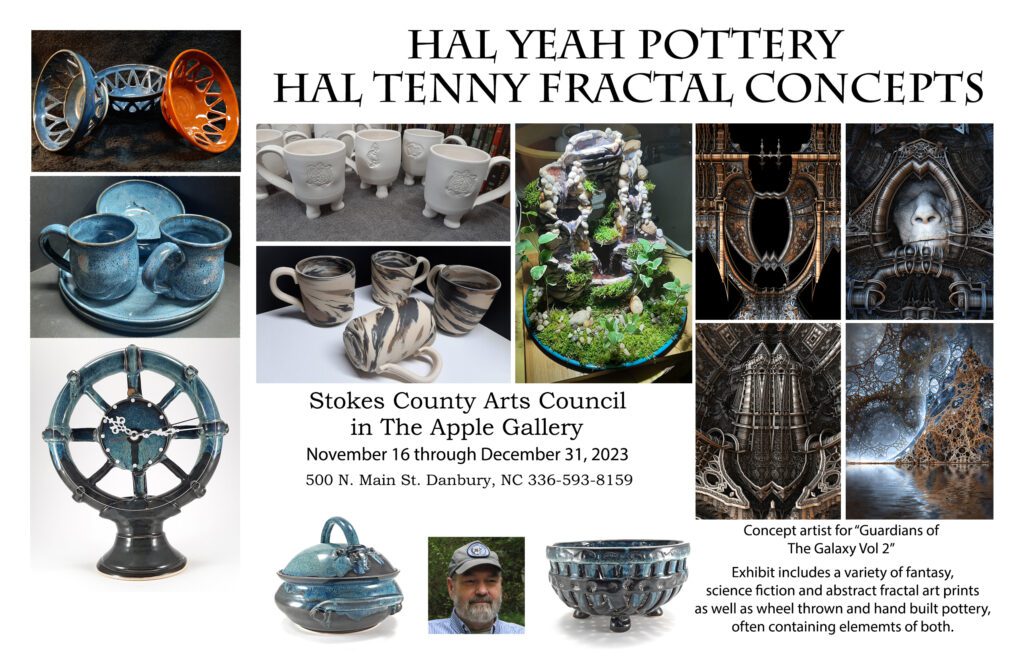 The Stokes County Arts Council is pleased to announce the opening of an exhibit of original art, by Hal Tenny in the Apple Gallery. The official gallery opening will be Sunday, December 3, 2023 during the Christmas in Danbury Festivities at The Arts Place of Stokes 500 Main Street Danbury, NC.
The images in this show are of various themes, though for the most part, Tenny's work is science fiction and fantasy based. He also has some abstract and organic like images. They are all fractals created with a combination of math formulas and adjustments of their given variables. In some images, he has composited into the work real life objects and plants to create surreal life like images.
A portion of the pottery is traditional such as plates, bowls and coffee mugs, but Tenny also likes to manipulate clay into unique designs, almost like sculpturing. Tenny said, "Clay can sometimes be un-cooperative, and it takes a certain patience to get what my mind comes up with. I like to create pottery that almost seems alive."
Tenny further explained that, "A few years ago, I found a renewed interest in a past love of mine, wheel thrown pottery. I created pottery extensively in the mid 70's to the mid 80's, and then somehow, my potters' wheel got packed away in the closet where it sat unused until March of 2019. I learned throwing on a kick wheel in high school in 73′. Both my potters' wheel and kiln were over 40 years old, but I've since replaced them with modern equipment. I now create both wheel thrown and hand built pottery as well as a combination of both that are unique as well as functional."
Tenny is also a Digital artist that creates 2d and 3d fractal images. His artwork is created with software that processes mathematical formulas into visual art in the form of fractal imagery. Fractals are present in many places in real life including for instance the shape of branches and root structures of trees, snowflakes and frost patterns on windows. Tenny strives to make his digital art as realistic and believable as possible.
Tenny is a high school graduate and was an art – music major. After graduating, he continued making wheel thrown pottery for several years. He once took a long break from making art, but he shared that his work in construction was, in a way, an outlet to create something, even if not artwork. "I took the same pride in my trade as I did in my art," said Tenny. Later on in life, Tenny slowly accumulated the tools for woodworking and made many things that further satisfied his desire to create. He is self-taught in all the software he uses.
Tenny's work has earned a best of show award at the Hammondsport Art Festival in New York. His fractal work was selected as one of the 25 winners in the Benoit Mandelbrott Fractal art Contest 2011. That same fractal piece was chosen by the editor as the cover art for the magazine REDES. "REDES para la Ciencia" (NETS for Science) is the print magazine format of a well- known Spanish Science TV program. Tenny participated in an invitation only digital art exhibition in May 2011, sponsored by Paper New England. The event was titled The Digital Palette and was held at the Artspace Gallery in Hartford, CT.
In 2017, Tenny's fractal art was featured prominently in the Marvel film, "Guardians Of The Galaxy Vol 2". Much of his fractal work was further conceptualized by other concept artists as well as four or more visual effects companies. His art appeared exclusively on the planet 'Ego' and was used in part to create 'Ego's' palace, various floor and wall designs, furniture and separate bedroom buildings. Much of the underground caverns were almost entirely based on Tenny's fractal work. He received onscreen credit as a concept artist for his work.
He also created numerous CD and album covers and a few book covers on commission.
Hal Tenny is currently retired and spends most of his time creating art and reading. He is an avid science fiction fan and has also written and published two novels, two short story collections and several single short stories that are available on Amazon as Kindle books. He also enjoys woodworking and has a complete woodworking shop that shares space with his pottery studio. Tenny and his wife currently live in Danbury with their son, daughter and two grandchildren.
This exhibit in the Apple Gallery will be on display from November 16-December 31, 2023. The Stokes County Arts Council is open to the public Monday through Friday, 9:00am-6:00pm, Saturday, 10:00a.m.-6:00p.m. and Sunday 12:00pm-6:00pm. For additional information about the exhibit, please contact the Stokes County Arts Council at (336) 593-8159.