8/16-9/30 Whitney Durner Exhibit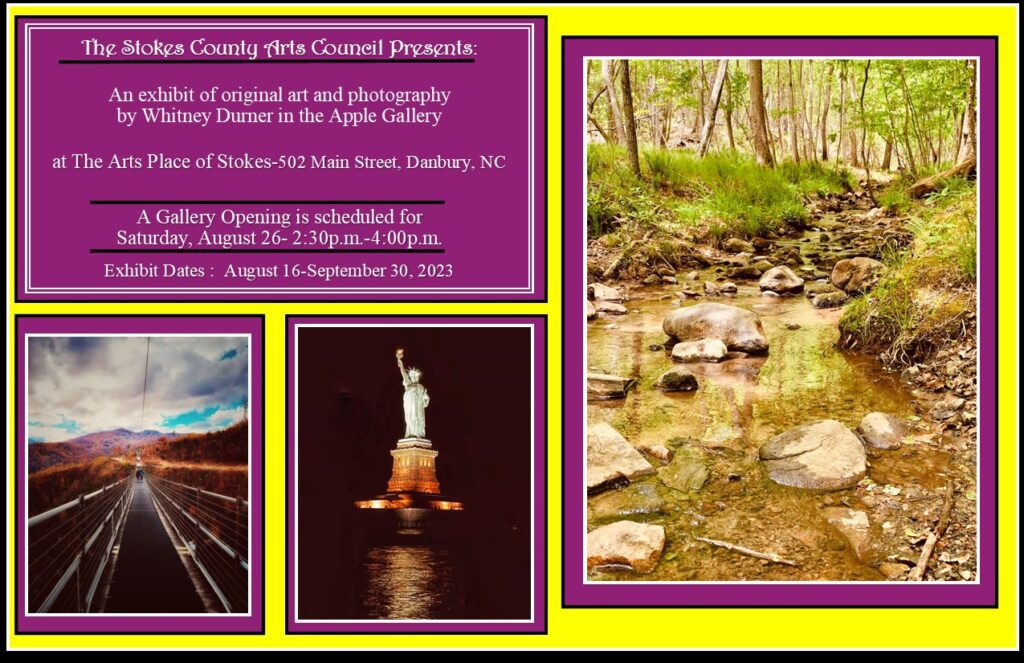 The Stokes County Arts Council is pleased to announce the opening of an exhibit of original paintings and photography, by Whitney Durner in the Apple Gallery. A meet and greet is scheduled for Saturday, August 26, 2023 from 2:30pm-4:00pm at The Arts Place of Stokes 500 Main Street Danbury, NC. Artist, Whitney Durner, is originally from Mayodan, NC. She served 6 years in the Army Reserves. Durner has two children, a son age 17 and a daughter who is 10. Durner travels often with her children and husband, and her love for photographing nature was inspired from her travels. The exhibit includes nature and landscape photography as well as abstract, acrylic paintings. Durner is a self-taught artist and has been featured at the Milton Rhodes Art Gallery for Associated Artists of Winston-Salem and in Artfolio's Online Gallery.
This exhibit in the Apple Gallery will be on display through September 30, 2023. The Stokes County Arts Council is open to the public Monday through Friday, 9:00am-6:00pm, Saturday, 10:00a.m.-6:00p.m. and Sunday 12:00pm-6:00pm. For additional information about the exhibit, please contact the Stokes County
Arts Council at (336) 593-8159.