7/15 New North Carolina Ramblers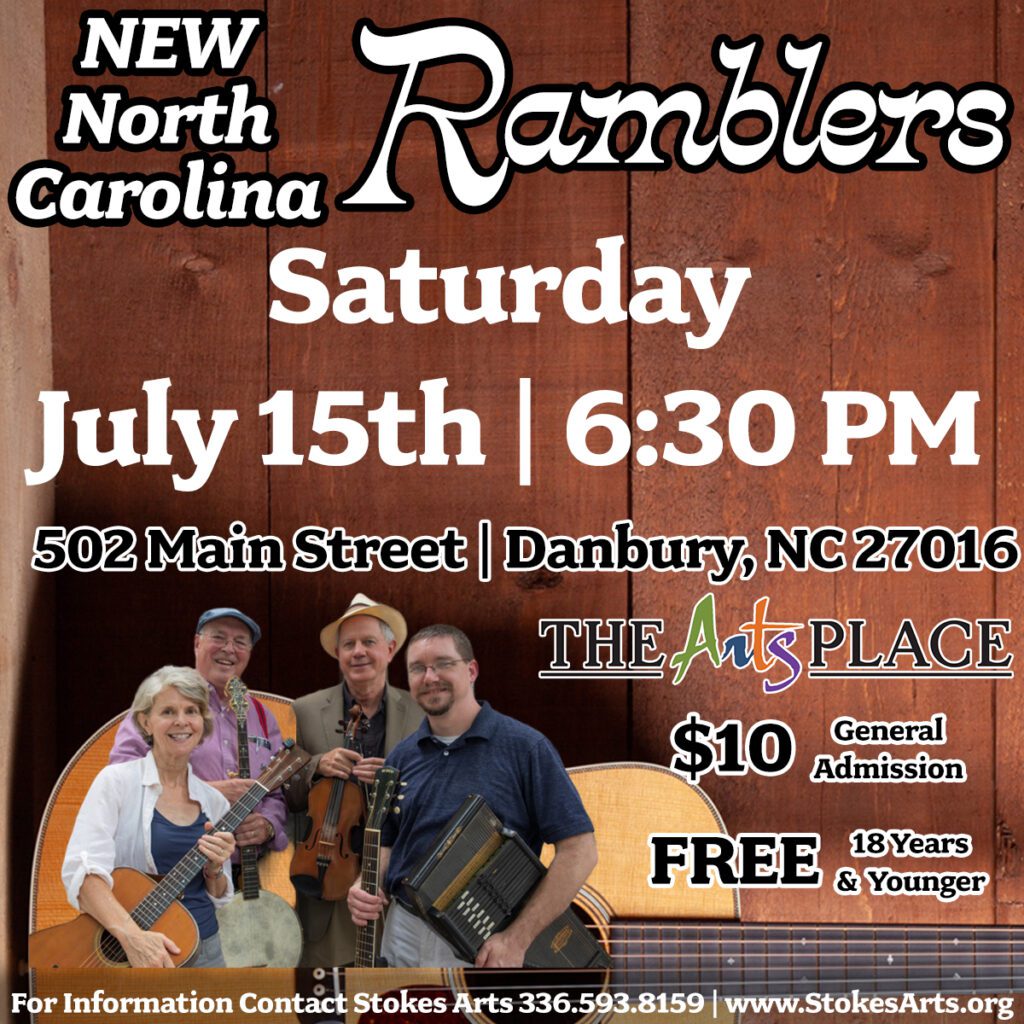 Saturday, July 15th at 6:30PM
$10 Admission (Ages 18 & Under – FREE)
Country music was wide open in the 1920s. Musical geniuses sprang up from unexpected corners, including the cotton mill culture of the Carolinas and Virginia.
As the emerging record industry discovered the popularity of rural music, Charlie Poole and the North Carolina Ramblers quickly asserted themselves as one of the most influential bands of the era and set the tone for what was to follow later in bluegrass and Americana music. The group matched old-time fiddling and exquisitely timed finger-style guitar and banjo with Poole's penetrating yet heartfelt vocals.
The New North Carolina Ramblers is the rare modern band that can create this original sound of Southern music. They come by it naturally—banjo player Kinney Rorrer is a grand-nephew of both Charlie Poole and his fiddler, Posey Rorer, and has spent a lifetime studying, writing about and performing the traditional music of his family. Kinney's father taught Posey's fiddle tunes to his sons, Kinney and Doug, who then sought out and played music with older regional musicians who were contemporaries of Charlie Poole.
As Kinney's own reputation grew as a musician and scholar, other musicians sought him out, which naturally led to the New N.C. Ramblers. Darren Moore and Wayne and Margaret Martin round out the current lineup.
Guitarist and autoharp player Darren Moore first visited Kinney as a youngster accompanied by his father, also a guitarist and record collector. Along with a warm tenor voice, Darren adds his own in-depth knowledge of another first family of country music, The Carter Family.
In the course of research and collecting early records, Kinney crossed paths with North Carolina fiddler Wayne Martin. Wayne's fieldwork included video documentation of outstanding traditional musicians, including Joe and Odell Thompson, Pappy Sherrill and Snuffy Jenkins, and one of Charlie Poole's fiddlers, Lonnie Austin. Wayne is known for playing with the intensity, timing and melodic sensibilities of pre-war fiddlers. Wayne's wife, Margaret, plays guitar, Hawaiian guitar and sings with the Ramblers.