5/16 – 6/30 Shannon Smith Exhibit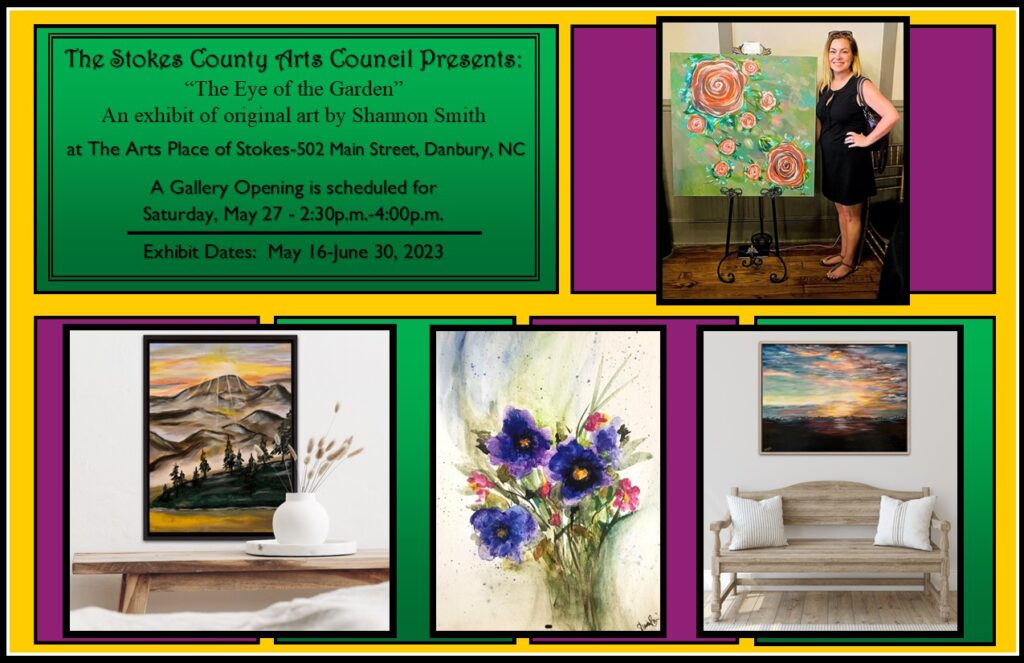 The Stokes County Arts Council is pleased to announce the opening of an exhibit of original art,
"the Eye of the Garden," by Shannon Smith in the Apple Gallery. A meet and greet is scheduled
for Saturday, May 27, 2023 from 2:30pm-4:00pm in the Apple Gallery of the Stokes County Arts
Council 500 Main Street Danbury, NC.
The theme of this exhibit, "the Eye of the Garden," speaks of the transformation of our human
self (ego) into the whole and perfect spiritual self. You will see a combination of media including
acrylic, oils, watercolors, and resin pieces.
Smith shared: "I have always enjoyed working with acrylic/gold leaf/watercolors/resin and
mixed media. My love of painting and the arts started at a very young age. I was always involved
in art classes, made the all-state choir in high school, acted in various theatre productions, etc."
Smith's education included an office systems degree and business background, and her arts
training began in 2019 when she joined the Created to Thrive mentorship program created by
Matt Tommey as a mentor. She is primarily a self-taught artist, and the mentorship program
allowed her to explore the business side of entrepreneurship as an artist.
Smith has been involved in several exhibitions locally including the Wine Tasting & Art
Extravaganza hosted by the Madison/Mayodan Rotary Club. Her art was also featured in the first
Integrating Artists showcase in Granada Hills, CA which was a collaborative art exhibition
hosted by Pete Arrias.
Other than creating art, Smith spends her time with her husband and adult children, who will
soon graduate High School & College. She is a Realtor w/Real Broker and love helping people
invest in their future and find their dream home.
This exhibit will be on display through June 30, 2023 in the Apple Gallery. The Stokes County
Arts Council is open to the public Monday through Friday, 9:00am-6:00pm, Saturday, 10:00a.m.-
6:00p.m. and Sunday 12:00pm-6:00pm. For additional information about the exhibit, please
contact the Stokes County Arts Council at (336) 593-8159.