10/1-11/15/2023 Gray Rutledge and Sharon Brooks Exhibit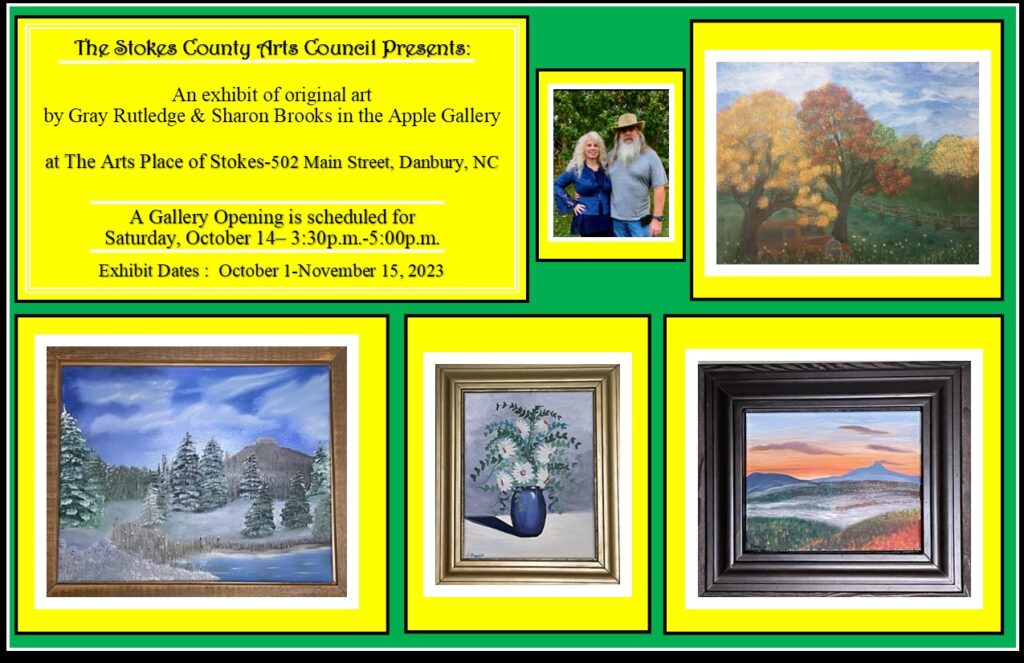 The Stokes County Arts Council is pleased to announce the opening of an exhibit of original art, by Gray Rutledge and Sharon Brooks in the Apple Gallery. A meet and greet is scheduled for Saturday, October 14, 2023 from 3:30pm-5:00pm at The Arts Place of Stokes 500 Main Street Danbury, NC.

Gray Rutledge and Sharon Brooks first began to pursue their interest in art about 3 years ago. After studying the techniques and use of various mediums of other artists, they began painting. Their new passion for art has grown over the years to what it is now – The Weathered Owl Art Studio.

Gray is a native of Stokes County. Sharon is originally from Forsyth County but has been residing in Stokes County over 20 years. Both Gray and Sharon attended Surry Community college. They are self-taught artists. Gray and Sharon use both oil and acrylic paints on stretched canvas, canvas board and glass. They have been fortunate enough to have some of their paintings reproduced into signed and numbered prints through the help of the Tim Bruce Art Gallery. Gray and Sharon were featured in an article in the Foothills Tims magazine and have been juried in various art competition events. The works in the Apple Gallery exhibit are titled "Brush Strokes". The frames were made by the artists from repurposed wood.

This exhibit in the Apple Gallery will be on display from October 1-November 15, 2023. The Stokes County Arts Council is open to the public Monday through Friday, 9:00am-6:00pm, Saturday, 10:00a.m.-6:00p.m. and Sunday 12:00pm-6:00pm. For additional information about the exhibit, please contact the Stokes County Arts Council at (336) 593-8159.