10/1 – 11/15 Sarah Booze Exhibit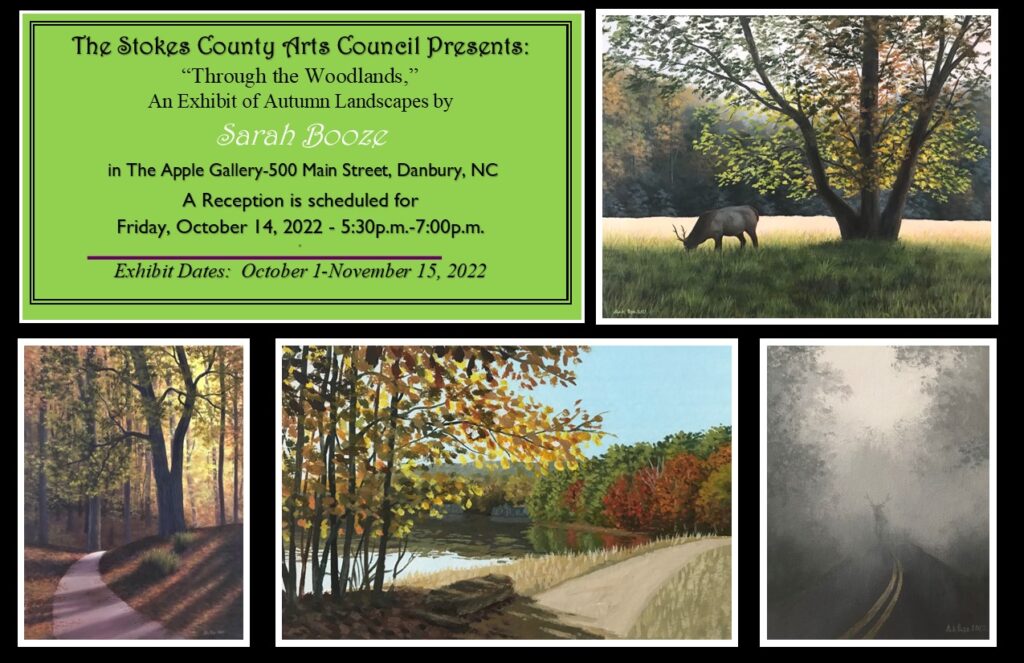 The Stokes County Arts Council is pleased to announce the opening of an exhibit of original art by Sarah Booze in the Apple Gallery. A reception is scheduled for Friday, October 14 5:30pm- 7:00pm in the Apple Gallery of the Stokes County Arts Council 500 Main Street Danbury, NC.
Sarah Booze is a native of Stokes County, but her love for art, language and culture has led her to travel and live in countries around the world. Booze's travels led her to hold jobs in museums and education, and when she is not painting, she tutors Japanese and teaches art. 
Booze is a self-taught artist. She attributes her style and skills to observing techniques of her favorite artists and analyzing their style as well as her endless experimentation and practice. Booze works in acrylics. She likes the ease and freedom of the media and originally created her first paintings in acrylic. Over time, she continued to work in the medium as she improved her techniques. Throughout her artistic journey, Booze has had solo exhibitions at the Apple Gallery and at the Creative Arts Center in Stuart, VA. Booze has won 1st place in acrylics for the past two years at the Rock Spring Art Show and has earned numerous other awards through NC and VA. She placed 1st in traditional acrylic art in the 2021 Carolina Classic Fair and recently received the Best of Show award at the 2022 Stokes County Fair.  Booze's latest exhibition, titled Through the Woodlands, is a collection of acrylic landscapes exploring the allure of the autumn woods. A reflection of life's journey, this walk through the woods reveals golden light and colorful foliage, as well as dark forests and misty paths. Weaving together the expected and the unforeseen, this atmospheric collection showcases the powerful beauty of the natural world while providing a healing visual experience.
This exhibit will be on display October 1-November 15, 2022 in the Apple Gallery. The Stokes County Arts Council is open to the public Monday through Friday, 9:00am-6:00pm, Saturday, 10:00a.m.-6:00p.m. and Sunday 12:00pm-6:00pm. For additional information about the exhibit, please contact the Stokes County Arts Council at (336) 593-8159.