01/01 – 02/15 Melody Hunter Exhibit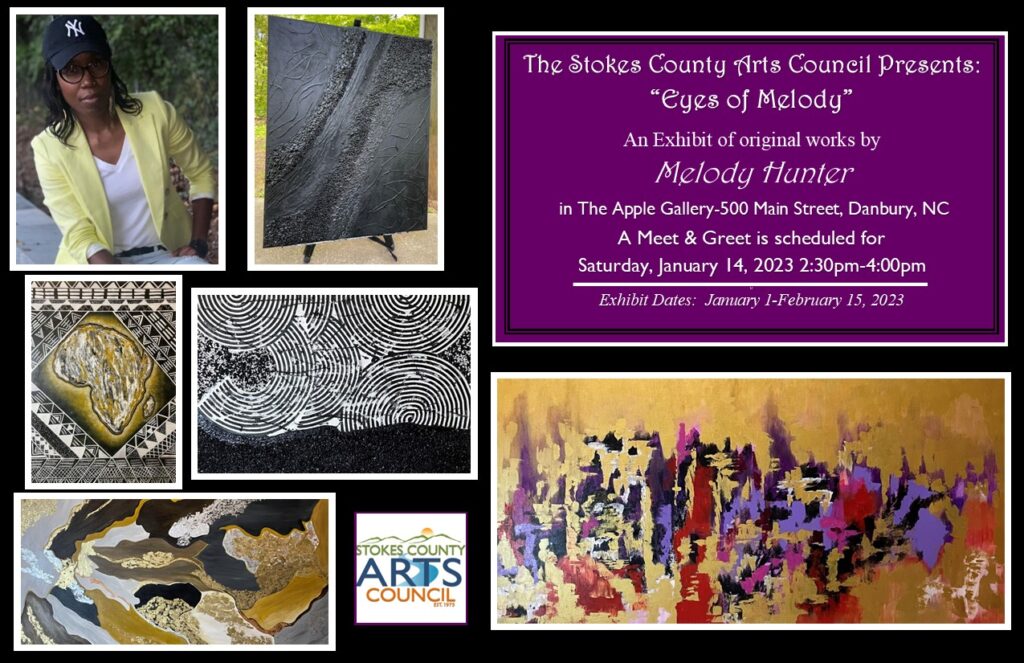 The Stokes County Arts Council is pleased to announce the opening of an exhibit of original art, "Eyes of Melody," by Melody Hunter in the Apple Gallery. A meet and greet is scheduled for Saturday, January 14, 2023 from 2:30pm-4:00pm in the Apple Gallery of the Stokes County Arts Council 500 Main Street Danbury, NC.

Hunter explained that she uses acrylic paint on canvas, glass, and fabric with all-purpose paste. She became interested in abstract art because it gives her "the freedom to create without limitations." Hunter studied art and had some training in high school but has mostly been self- taught in her adult artistic endeavors.

The theme of much of the work in the exhibit is about emotions and the freedom to be free. Hunter describes herself as a free-spirited person and said music keeps her grounded. She is very passionate, loves to laugh and treasures everyone who comes into her life. She loves nature. She even enjoys skydiving. Other than painting, Hunter also spends her time reading, cooking, and participating in fitness activities. In fact, she is a self-employed personal trainer and health coach.

This exhibit will be on display January 1-February 15 in the Apple Gallery. The Stokes County Arts Council is open to the public Monday through Friday, 9:00am-5:00pm, Saturday, 10:00a.m.-5:00p.m. and Sunday 12:00pm-5:00pm. For additional information about the exhibit, please contact the Stokes County Arts Council at (336) 593-8159.